The cheese ranking world – Italy with 8 cheeses in the first 10 positions
We are arguing again with France… this time not because of us, at least not directly, but because of the ranking of the 50 best cheeses in the world, which the TasteAtlas guide published a few days ago. In fact, Italy is found with 8 cheeses among the top 10 classified, the others are taken from Mexico and Portuguese. France, is just (so to speak) in 13th place…
And this is how the pride of the French has been defaced. In fact, they have publicly accused the TasteAtlas guide of aiding and abetting Italy.
But let's leave this nonsense and see below the ranking:
Parmigiano Reggiano 
Gorgonzola Piccante 
Burrata 
Grana Padano
Oaxaca Cheese
Stracchino di Crescenza
Mozzarella di Bufala Campana
Queijo Serra da Estrela
Pecorino Sardo
Pecorino Toscano
Bundz
Canastra
Reblochon
Comtè
Pecorino Romano
Bocconcini
Taleggio
Old Amsterdam
Sirene
Provola
Graviera Naxou
Manchego Curado
Stracciatella
Fiore Sardo
Gołka
Mont d'Or
Pljevaljski Sir
Mozzarella
Gruyère
Queso Manchego
Beaufort
Kefalotyri
Neufchâtel
Saint-Félicien
Dubliner
Kefalograviera
Gorgonzola Dolce
Queijo de Coalho
Graviera Kritis
Queso Zamorano
Sulguni
Caciocavallo Silano
Queijo de Azeitão
Provolone del Monaco
Redykołka
Délice de Bourgogne
Èpoisses
Coolea
Slovenskà Parenica
Brillat-Savarin
The TasteAtlas ranking of the best cheeses in the world puts Italian cheeses on the podium but not everyone agrees. And you? What's your favorite cheese? Come and tell us about it on our socials.
Full ranking of the TasteAtlas guide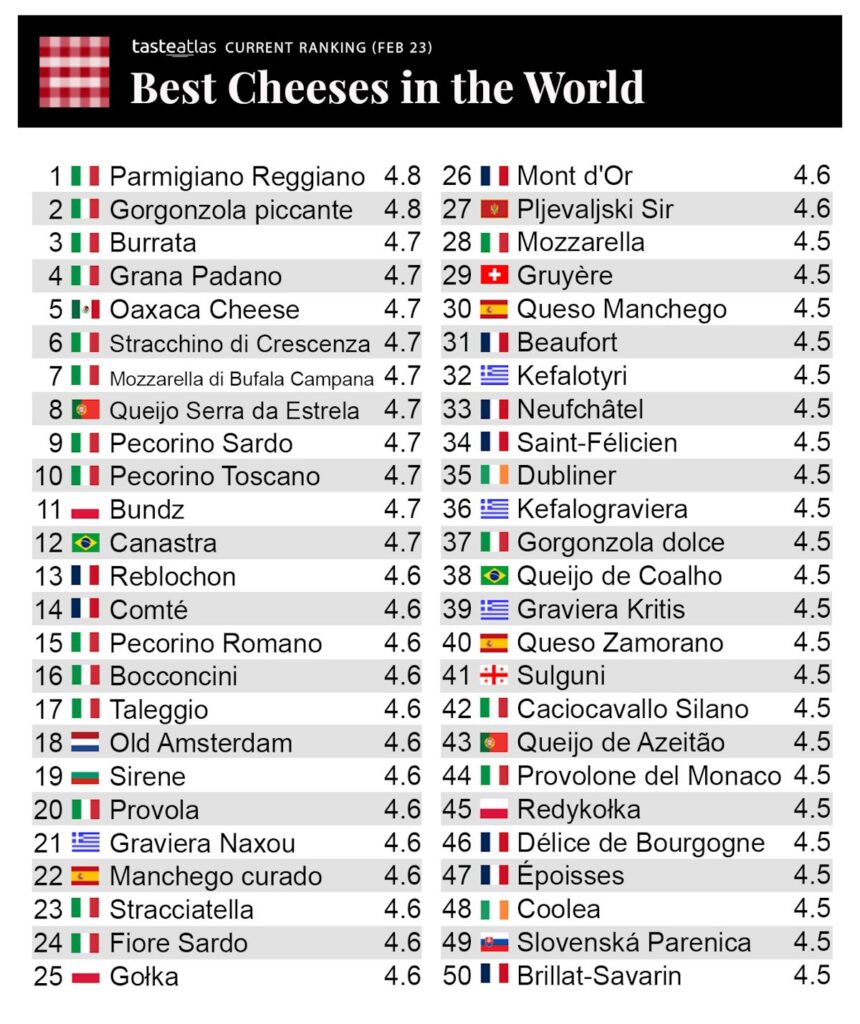 